Spring means many things to many people: faith celebrations such as Easter, respite from Winter, housecleaning, new life …
Around this time of year, two years ago, I received these items in the mail and wrote the following …
Dyes, kistka/stylus and beeswax
Yesterday may have seemed just like any other day, but it wasn't. I awakened about 4 am, unable to go back to sleep, ruminating about what had taken place the day before.
A couple months ago, my friend Anne and I had signed up for a pysanky (Ukrainian Easter egg) workshop. Due to our present COVID situation, it looked as if it might have to be cancelled; however, the organizers were able to switch to an online event (thank you Watson and Lou).
The last, and only, time I'd attempted this was when I was a child, with Nana. This time, it was healing … and very emotional … to connect with my Ukrainian heritage.
Since childhood, I've wanted to embrace her culture and traditions through language, dance and folk art. Much of that died with my grandmother, over 35 years ago.
Is it too late? That void and unfulfilled longing have been a major source of grief for me, my entire life.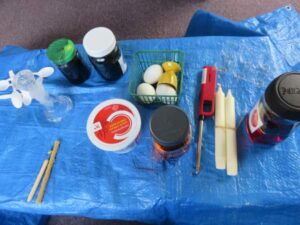 It may seem strange to grieve something that's been mainly experienced through food (more than a few pounds have been gained by eating perogies :), yet is it any different than grieving a lost opportunity … or the way the world has changed in the past month?
Back to pysanky. The process is fairly simple. Eggs are placed in dye, then you cover parts with wax (placed in a stylus) in order to form a resist, and continue dying with other colours.
Finally, heat from a candle is applied, and the wax is removed.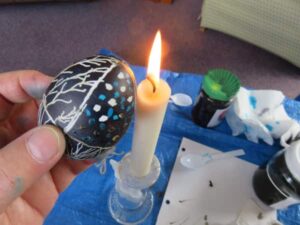 As with most things in life, it can be as simple or as complicated as you want it to be.
Trying something new can be daunting. We often compare ourselves to others. We fear failure. And yet, the only real failure is not trying at all.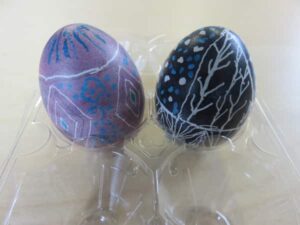 Throughout the centuries, symbols and motifs have adapted. In ancient times, they depicted good fortune and harvest. Later, they were reinterpreted according to faith. Present day examples tend to be secular and decorative.
Plan A had been to fulfil my dream to visit the home of my ancestors last summer, which didn't happen.
Fast forward to April 2022. Ukraine is in political and economic turmoil, not unlike the tumult my grandparents experienced in that part of the world in the early 1900's, causing them to come to a new land of hope and promise – another form of death and resurrection.
By honouring this tradition, I continue to hold them, and their legacy, in my heart.